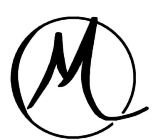 McNeil Voice Studio Policies
Fees, billing periods and acceptable payment methods and times-
Payments are expected in full before each 6 week semester. Paypal invoice, Cash and Checks accepted.
Lesson times and requirements for punctuality-
Students are expected to be on time for their lessons so to not disturb the following lesson.
Scheduling of lessons -
All lessons will be scheduled with the teacher in the initial start-up of lessons. Any further schedule changes can be arranged later. Your lesson time is reserved for you and others will be turned away for that time so please schedule carefully.
Refund Policy-
There are no refunds. Course payments are not pro-rated by the number of sessions attended by the students; thus, if you are only able to attend 5 of the 6 scheduled classes, you still must pay the entire course fee.
24-Hour Cancellation or Rescheduling Policy-
Make ups will only be held for classes postponed by holidays, instructor's request, or extreme weather. We do not offer makeup dates for student absences from classes nor do we pro-rate tuition. Students in private lessons are entitled to one makeup lesson per term, provided that they notify the instructor at least 24 hours in advance. If a student wishes to cancel a lesson, they must call the instructor by 9pm the night before. Email: mcneilvoicestudio@gmail.com if you do not have the teacher's number.
Inclement Weather Policy-
If there is inclement weather on the night of your class, please check the MVS Facebook page, website or call your instructor for cancellation information. All classes will be held as scheduled unless the instructor is unable to be present. If your class is canceled, then we will notify you by phone and/or email by 12PM. A weather day will be added to your class to make up for the missed class.
The teacher's expectations for practice and lesson preparation -
Ideally students should be practicing at least 4 to 5 times a week.
Materials- Students are recommended to use a folder for hand outs and sheet music. Voice students must bring water and a notebook for lesson notes.